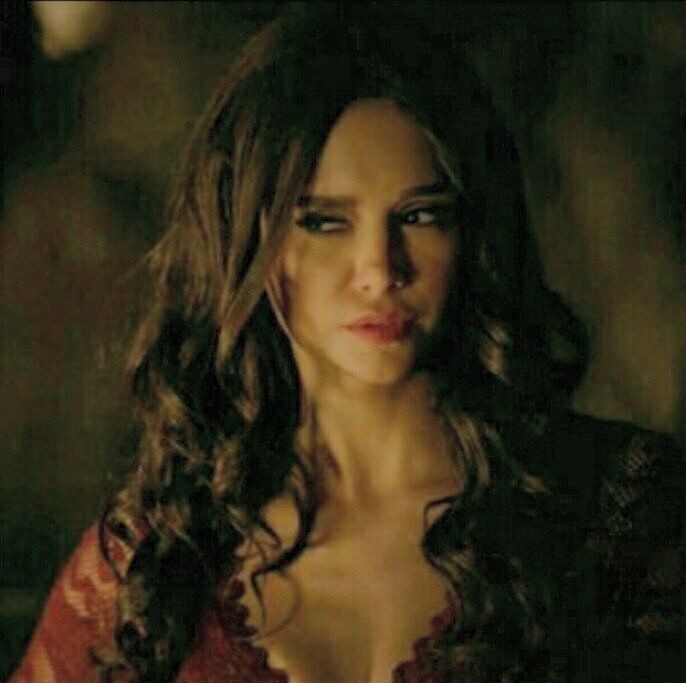 Character's name:
Katherine Pierce    
Age:
18   
Species:
Vampire    
Face claim:
Nina Dobrev  
The simplest way of distinguishing Katherine from Elena is in observing basic cosmetic differences: Katherine favors a curly hair style, while Elena typically wears hers straight; Katherine often pairs a sensually cut outfit with heels, while Elena is usually seen wearing comfortable, practical options like jeans, T-shirts and sneakers; and Katherine tends to wear more makeup than Elena.
Almost every character that has met both of them have remarked that Katherine looks identical to Elena; indeed, they are both doppelgängers of their common ancestors, Amara and Tatia. As such, Katherine is an extraordinarily beautiful and seductive young woman: she has an oval face with fine bone structure, a wealth of brown curly hair, and almond-shaped, deep brown eyes with thick dark lashes.   
Katherine is a very strong and independent woman. After running from Klaus all of these years, she learned to think about herself first, and others later. That sense of self-preservation is what has kept her alive all of these years. Katherine is one of those girls that you never really know when she is telling the truth. When she decides to play nice, she is very trustworthy. But if something happens, and she is put in danger, she will turn on you in a heartbeat. Unless of course, you are Stefan or Damon Salvatore. She has always had a soft spot for the Salvatore brothers, and to this day she will change her ways if it means saving one of them. Especially Stefan. Katherine can be extremely selfish at times. She can be mean and conniving, but deep down she does have some shred of humanity. She just doesn't like to show it.      
   Katerina Petrova was born into a Bulgarian family in 1475. In 1490 at the age of 15, she got pregnant by someone unknown to her family. They disowned Katerina because of this. She carried the child to full term, and when her daughter was born, Kat's father took her away. Katerina was told that her and the child would be better off not knowing each other. After recovering from giving birth, Katerina was shipped to England, away from her family.
Katerina quickly adjusted to life in England, embracing their many customs. She met a man named Trevor during her stay there, who introduced her to Lord Elijah. She fancied him, but she also fancied her brother Klaus. She carried this affection for him until she found out who he truly was and that he wanted to use her to break a curse. Katerina fled with Trevor. They met up with Trevor's sister, Rose at a cabin who ended up feeding Katerina her blood when she tried to commit suicide. With Rose's back turned, Katerina again tried, this time successfully, to kill herself. When she awoke, she was a vampire. She completed the transition by feeding on the cabin's owner. Leaving Trevor and Rose behind, Katerina fled. She changed her name to Katherine Pierce and she didn't look back.
Katherine moved to America and in 1864 she settled in a small town called Mystic Falls. After arriving, she met Stefan and Damon Salvatore. She fell in love with both of them and she took advantage of both brothers. She compelled them both not to reveal her secrets to the other brother. Her life was moving smoothly until Stefan and Damon's father discovered her for what she was and took her away to be killed. In an attempt to save Katherine, the two brothers teamed up for a rescue mission. Their father shot them both for their betrayal without knowing that they both had Katherine's blood in their system. After escaping her captors, Katherine found the brothers laying dead in the road and she whispered into Stefan's ear, "We will be together again someday, I promise."
Jump to present day…
Katherine has returned to Mystic Falls, despite the fact that Klaus has taken residency there. Her feelings for both Stefan and Damon, but especially Stefan, are plaguing her once again. She has come back to win them over once again. She is oblivious to the danger that she might be in, but she will soon find out.   
Alias:
Tina   
How you found us:
Google    
Main Character:
Katherine Pierce